Venue
Armour House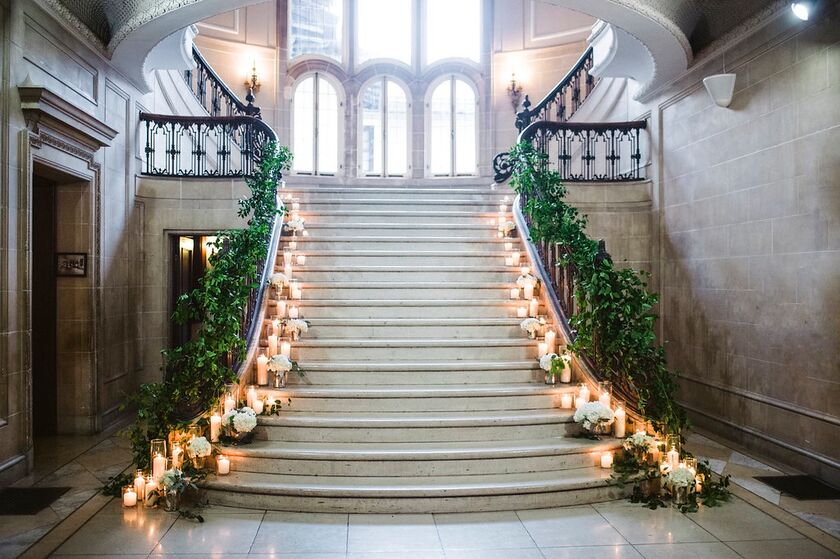 About the Armour House:
The Armour House is an Italian style villa built in 1908, it is listed on the National Register of Historic Places. J. Armour from Milwaukee, WI and of Scottish descent commissioned the house to be built. It was then called "Mellody farm" and Elsie de Wolfe was the interior designer! Mr. Armour also had the grand staircase specifically built with the intention of walking his two daughters down on their wedding days. His first daughter, Lolita did end up getting married at the home in 1921.
Why Maggie & Dan chose the Armour House...
Being halfway between Dan's hometown (Milwaukee) and Maggie's hometown (Hinsdale) and right near Grandma Busby's house, it was a no-brainer!
Also, Maggie visited the Armour House gardens when she was 10 and has never forgotten it!
Residence Inn by Marriott Chicago Lake Forest/Mettawa
26325 N Riverwoods Boulevard, Mettawa, IL 60045, USA
(847) 615-2701

Apparently this hotel is completely sold out! So, if you're still looking for a room, book at the Hilton Garden Inn Mettawa. It's right next door and they still have rooms :)
Dan and Maggie will be staying at The Residence Inn by Marriott in Lake Forest/Metttawa on Thursday September 6th and Friday September 7th and then will head to the city for Saturday night!
A room block is available for Thursday and Friday nights. It is only a 5 minute drive from the venue, and there will be a complimentary shuttle service.
The hotel has an indoor pool & hot tub, basketball half court, and pool table. All rooms are suites with a seating areas and kitchenettes.
If you want to treat yourself and stay somewhere more upscale and chic, I highly recommend The Deer Path Inn right in downtown Lake Forest, which is less than 10 minutes from the venue.
The Langham Chicago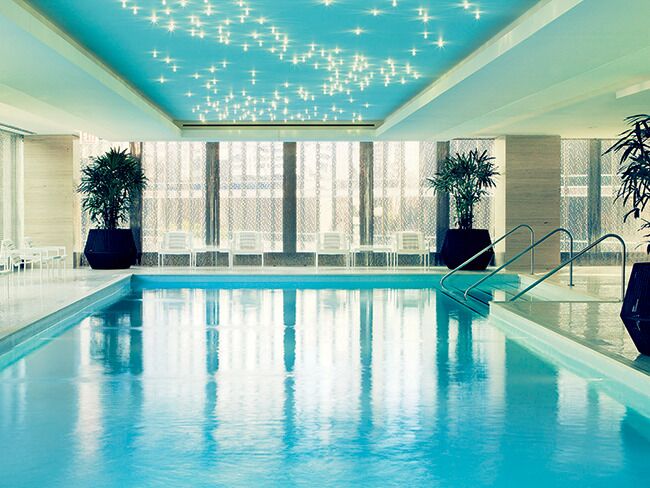 330 N Wabash Ave, Chicago, IL 60611, USA
(312) 923-9988

Saturday, Dan and Maggie will be staying at here, spa-ing it up and detoxing at their luxe pool, hot tub, sauna, & steam room, and then seeing where the day/night takes them with friends and family. Let us know if you want to stay in the loop on what we end up doing!
We understand that this hotel is pricey, so if you want something more economical that is super close to us I would recommend the Kinzie Hotel. Alternatively, if you want something economical and don't mind the location, I would recommend the Radisson Blu Aqua Hotel, which has one of the only outdoor hotel rooftop pools in the city!

Hampton Inn & Suites Chicago-Burr Ridge
100 Harvester Dr, Burr Ridge, IL 60527, USA
(630) 655-1000

On Sunday night, after the BBQ, Maggie and Dan will be staying at Maggie's parents house. But if you want to know the closest hotel, this one is only a 5 minute drive away! If you want something a little more upscale I would recommend the Chicago Marriott Southwest in Burr Ridge. If you want to stay somewhere more upscale and headed in the opposite direction (north of Hinsdale), I would stay at Le Meridien at Oakbrook Center, which is about a 12 minute car ride away. .
Trains
You can take the train to and from downtown Lake Forest to downtown Chicago on the "Milwaukee District (MD-N) to Fox Lake" or "Union Pacific North (UP-N) to Kenosha" train lines as well as to and from downtown Chicago to downtown Hinsdale on the "BNSF Railway (BNSF) to Aurora" train line.
Here is the website with time schedules:

Shuttle Service
There will be a complimentary shuttle service from the Residence Inn by Marriott in Lake Forest/Mettawa to and from the venue at the Armour House.
Mags & Dan's Favorite Things to do in the Area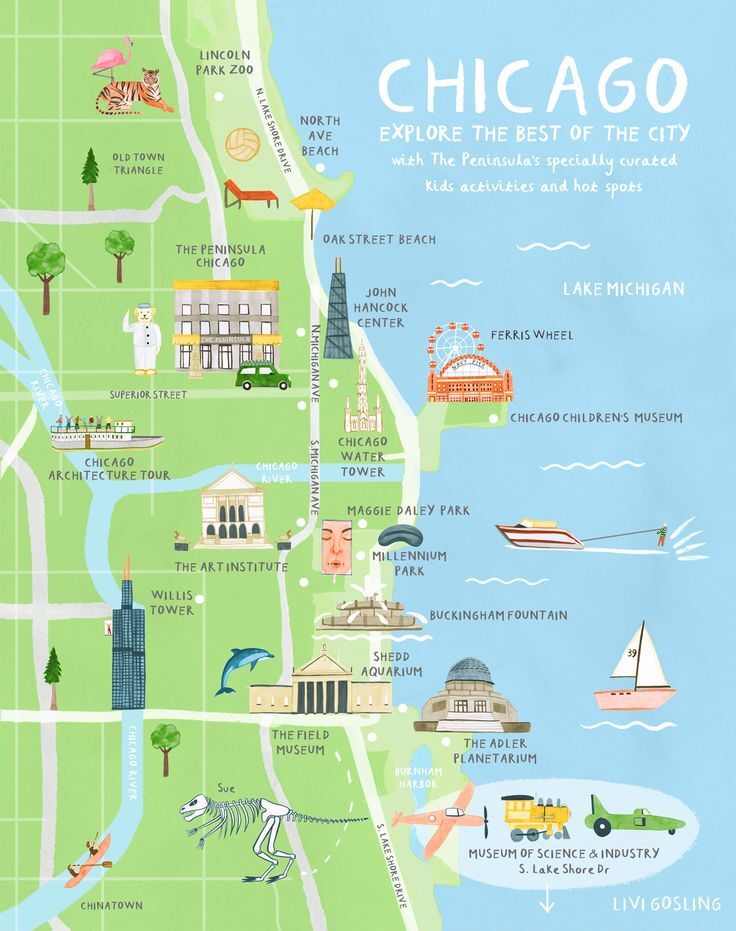 Lake Forest Area Top 5:
1. Go to the Chicago Botanic Garden! Maggie has been to many gardens and she says this one rivals all of them! It's a magical place, and very close to the venue. Be sure not to miss the Waterfall Garden!
2. If the weather's nice, go to the beach at Sunrise Park in Lake Bluff!
3. Just hangout in Lake Forest's adorable downtown! Go for Afternoon Tea at the Deer Path Inn in a gorgeous setting with Scottish heritage interior design.
4. Love popculture? These houses are all pretty close to the venue: Home Alone house at 671 Lincoln Ave Winnetka and Risky Business house at 1258 Linden St Highland Park.
5. Love world religions and spirituality? Go to the Baha'i Temple & Gardens. Just go. It's sublime!
Chicago Top 7:

1. Tour Frank Llyod Wright's actual home and studio in Oak Park! So cool! It is outside of the city, so you could also do it on the Hinsdale day.
2. Love to shop? Walk along the Magnificent Mile or go to Armitage & Halsted in Lincoln Park for a more quaint experience.

3. Visit the dolphins, beluga whales, and more at the Shedd Aquarium! Right outside the Shedd Aquarium boasts one of Chicago's most beautiful views of the skyline with the lake in front.
4. Gem & jewelry lover? Visit the Grainger Hall of Gems at the Field Museum. The collection is simply breathtaking!
5. Visit the Bean and Crown Fountains at Millennium Park.
6. The Art Institute is right next door. Love architecture and interior design? Visit the Thorne Miniature Rooms! Love Impressionist work? They have over 30 pieces by Monet! Love ancient Buddhist and Hindu sculptures and art? Visit their massive Asian art collection.
7. Foodie? Go to *Eataly, Portillo's, Harold's Chicken, Giordano's, Lou Malnati's, Girl and the Goat Group, RPM Group, 3 Arts Cafe at RH Gallery, Afternoon tea at The Palm Court, The Hampton Social, The Kitchen, The Allis, Travelle, *Foodlife (Food Court at Water Tower Place), Ralph Lauren Restaurant, Beatrix, Blue Door Kitchen, Chicago Diner, and *Cindy's = best view of the Bean, Millennium Park & all the boats out on Lake Michigan! Places we want to try next: LH on 22 = rooftop overlooking the river, Shore Club = right on the beach, The Signature Lounge at the 96th, Alice and Friends' Vegan Kitchen, Native Foods, and Chicago Raw.
*the restaurants we would both go back to :)
Things that we've never done but look fun!:
1. Charter a yacht
2. Aire Ancient Baths looks incredible! They have them in Spain and NYC and just opened a location in Chicago. It's a spa with Romanesque style thermal baths of different temperatures all lit up with candelight. There's also a floatarium (salt water bath), steam room, private wine bath, and a private antique XVII century Venetian well bath. They also offer hot salt stone massages~ something I've never heard of before and sounds amazing as well as other spa services!

3. The Windy City Wine Festival happens to be taking place on Saturday! 1 ticket gets you 20 tastings and it's right near Buckingham fountain, Grant Park and the lake front.
More ideas... Things that didn't quite make our favorites list, but you may enjoy! (in order): Chicago River Architecture Tour, Ferry ride, Chicago beaches, Skydeck Chicago (top of Willis Tower), Brookfield Zoo, Lincoln Park Zoo (free!), Lincoln Park Conservatory, Centennial Ferris Wheel, Navy Pier, Museum of Contemporary Art, Shopping at Water Tower Place, The White Sox are playing the LA Angels on Saturday, the Adler Planetarium.

Hinsdale Area Top 8:

1. Do you love spas as much Maggie does? This is in Maggie's top 2 favorite spas: Kohler Waters Spa Burr Ridge. Soak in their hot tub, plunge in their polar pool, steam, sauna, massage, yes please.
2. Water baby? You can get a day pass at Lifetime Fitness Burr Ridge- which has indoor and outdoor pools and hot tubs, steam rooms, sauna, 2 2-story water slides, as well as Five Seasons which has indoor and outdoor pools and hot tubs, steam rooms, sauna, and tennis courts. Both places also offer full gyms and exercise and yoga classes.

3. Hang out, walk around, shop til you drop in Hinsdale's adorable and historic downtown. Get a vegan & gluten free chocolate chip cookie at Sweet Ali's! Oh my goodness!
4. Drive around and look at the gorgeous homes! There are a few Queen Annes from the late 1800s, and a few red brick streets from the 1930s.
5. Walk around/feed the ducks at Fullersburg Woods and go to the Graue Mill & Museum.
6. Go shopping at Oakbrook mall. It's one of the only big outdoor malls and we love it!

7. See a movie at AMC DINE-IN Yorktown.

8. Check out more neighboring downtowns like Clarendon Hills, Western Springs, and LaGrange! So many cute boutiques! Alixandria Collections is a favorite!!