Our Story
It was September 4, 2009, a full moon. The only reason I remember this is because 1.) that is my brother's (Ben & Sam's) birthday and 2.) Zeen (my roommate at the time) and I had just done a moon water ceremony where we place crystals in water under the full moon. Zeen invited a group of friends to come over to our apartment; they were in town all the way from Portland because a bunch of them were playing a gig in Denver the following night. They came over and Dan and I instantly felt a connection. We all went out that night to the Fox Theater and Dan and I flirted and danced with each other. Then, he pulled me in for a kiss and the rest was history! We spent the whole weekend together and then we had to say our goodbyes. He and his friends drove back to Portland, which left me talking non-stop about Dan to Zeen for a long time! Sorry Zeen!
Fast forward a year and half later and we had talked endlessly online and hung out twice since then- once in Portland and once in Chicago.
It was December 21, 2010, and I drove to the train station to pick up Dan. It was twilight and snow was gently falling from the sky. Dan had taken the train down from Milwaukee. We drove to my house, and Dan met my family. We stayed up all night watching movies and eating cereal in bed. The following day we took the train to Chicago and stayed at a hotel on Michigan Avenue. Dan took me out for champagne and oysters; it was still snowing, and it was unbelievably romantic. The whole area was lit up with Christmas lights! That night Dan asked me to be his girlfriend. And I of course said yes!
The following day we drove up to Milwaukee and we met his mom for lunch and then went to his Dad and Jacque's house to meet them! We hung out in the Busby's cozy basement with the fire blazing, watching movies, drinking wine, and eating yummy treats!
Fast forward to today! We've lived in the same house now for five years in the Santa Cruz mountains with our two cats: Kitty and Curtis. We love hanging out with the cats, all animals in general, watching movies and shows, going on walks, going out to eat, and we love traveling! Together, we have driven from Chicago to Portland, Portland to the Bay Area, and the Bay Area to LA along the coastline, and we've been to Lake Tahoe 3x, Seattle twice, Boston, Mexico, Greece, Italy, Moncao, France and last but not least the cottage at Gravel Lake! We have a whole bucket list of places we want to go someday that will last us a lifetime! Dan and I consider ourselves billionaires in the love, friendship and family department, and we cannot wait to celebrate with you all. We love you so much! Cheers!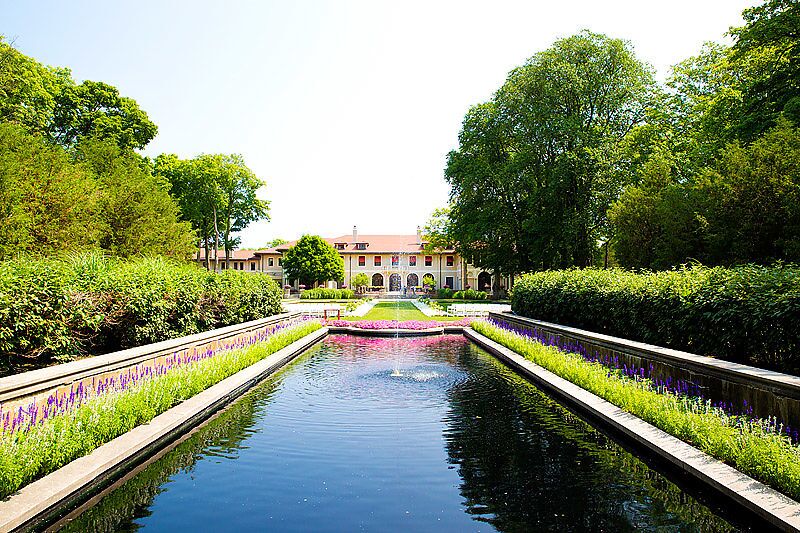 Friday, September 7, 2018
Attire: Garden Party Attire
Ceremony and Reception
The Armour House at Lake Forest Academy
1500 W. Kennedy Road, Lake Forest, IL 60045, USA
5:45pm-12:30am
You can expect a beautiful ceremony, cocktail hour, dinner, and dancing!

FAQ:
What are the entree meal choices like?
Pork Option: Pork Osso bucco with fresh gremolata and caramelized tomato demi-glaze with garlic mashed potatoes, French green beans and baby carrots
Chicken Option: Statler breast of chicken, wild black pepper Maderia with garlic mashed potatoes, French green beans and baby carrots
Fish Option: Grouper with a lemon caper Beurre Blanc with wild rice pilaf, French green beans and baby carrots
Vegan Option: Portobello mushroom cap with grilled vegetable tower, vegan mashed potatoes, roasted red pepper coulis
What are Maggie and Dan's parents names?
Maggie's parents names are Ann and Ken.
Dan's parents names are John and Pam, and his step-parents names are Jacque and Jim.
What is Dan and Maggie's address?
25111 B Soquel San Jose, Rd.
Los Gatos, CA 95033

What will you two be doing the day/night before the big day?
Depending on the weather we will be at the beach at Sunset Park in Lake Bluff, getting an acai bowl at LF Juice in downtown Lake Forest, or soaking in the hot tub at the hotel, and then going to bed early! So, just give Maggie or Dan a call or text if you want to meet up for some r&r. Maggie: 630-209-8692 Dan: 831-706-8309 <3
What is your wedding hashtag?
#husbyandwife2018 !!!

Other Events
Farewell BBQ
Sunday, September 9, 2018
The Kohout's House
5584 South Oak Street, Hinsdale, IL, USA
At 6:45-11:00pm (game starts at 7:20!) on Sunday, there will be a very casual Farewell BBQ at the Kohout's Hinsdale home where we will watch the Packers beat the Bears ;) and have a bbq and s'mores around a campfire. Everyone is welcome!
Wedding Party
Ellie Lockhart - Matron of Honor
Hometown: Hinsdale & now Chicago

Ellie and Maggie went to middle school, high school, and college together! They have been through a lot together from joining a sorority, to dropping out of said sorority, to living together! Ellie has always been a true and loyal friend to Maggie and they can always count on each other for advice & support. Ellie is married to Tessa's brother, Andy!

Zeen Oehmig - Maid of Honor
Hometown: Chattanooga, TN

Zeen and Maggie are spiritual sisters. They became best friends living together in their college years at The University of Colorado Boulder, and Zeen is the person that introduced Maggie and Dan to each other! Together they have explored Chicago, Chattanooga, Asheville, Colorado, Seattle, Portland, and California. They also love "moon water", pumpkin candles, and watching Harry Potter & Practical Magic.
Lindsay Witz - Matron of Honor
Hometown: Clarendon Hills & now Park City, UT
Lindsay and Maggie met in 6th grade and have been best friends ever since. Together they have been snorkeling in the Florida Keys, backpacking in Alaska, sea-kayaking in Washington's San Juan Islands, white water rafting in Oregon, skiing/snowboarding and snow tubing in Park City, tubing in Michigan & Wisconsin, and they are both getting married in 2018! Maggie will be a bridesmaid for Lindsay and Rocky's wedding too!
Matt Campbell - Man of Honor
Hometown: Hinsdale & now Chicago/California

Matt and Maggie met in 2nd grade CCD class at St. Issacs! But they became really good friends in 7th grade. Matt was Maggie's best guy friend throughout high school and college; they always had each other's backs! Maggie couldn't imagine her day without having Matt on her bridesmaid's side, and luckily Matt agreed to being her "Man of Honor"! From Wilmot skiing days to music festivals, Matt and Maggie have shared many laughs!

Alice Barclay - Bridesmaid
Hometown: Cupertino, CA
Alice and Maggie met their first day of grad school at JFKU (MFT) and instantly hit it off. Over 2 years of classes, Alice has become one of Maggie's very best friends. As they are both therapists, they love to analyze and talk about everything! Maggie has this type of relationship with her mom (where they talk about literally EVERYTHING), but with her mom being all the way in Chicago there has been a void in her life. Maggie is eternally grateful that Alice came into her life. It was a best friendship meant to be. Alice lives with her husband, Zack, and their daughter, Nina.

Tessa Tuschall - Bridesmaid
Hometown: Hinsdale & now Chicago
Tessa and Maggie met in middle school but became best of friends in their sophomore year of high school! They also had their FIRST job ever together at Baldeneli's pizza when they were 16! Together, they have been to Boca Grande twice, Hawaii, Montana, Colorado, California, Seattle, and of course GRAVEL LAKE. Of all of Maggie's friends, Tessa has been to the cottage more than any other! Tessa and Maggie love the smell of sunscreen, "spa-days", food and fun! This fall Maggie was also a bridesmaid for Tessa's wedding to James!
Nicole Fischer - Bridesmaid
Hometown: Vancouver Island BC & now Santa Cruz

Nicole and Maggie instantly hit it off here in Santa Cruz, and their friendship has grown over the years. Nicole lives with her boyfriend, Vance, who is Maggie's older brother Joe's friend! Maggie and Nicole have shared beautiful memories of beach sunsets, charcuterie and drinks over the water, tarot readings, champagne toasts, Canadian thanksgiving, creating vision boards, and more! Maggie feels so lucky to have her friendship with Nicole unfold each time they hangout, and she has no doubt their friendship will last a lifetime.
Christy Pierce - Bridesmaid
Hometown: Boulder & now Denver
Christy and Maggie met in college and though they don't get to see each other often, they remain in each others hearts. Maggie and Christy's birthdays are two days apart! They are both the "nurturing mother" archetype. Maggie has always looked up to Christy. She is just simply the best.

Sunny Winkleman - Bridesmaid
Hometown: Westmont & now Santa Cruz

Sunny and Maggie became friends when Maggie was in 10th grade and Sunny was in 9th! They both went to college in Colorado and today they both live in Santa Cruz. Maggie feels lucky that she has such a good friend that has been with her throughout her Chicago days, Colorado days, and now California days. She can always count on Sunny to be there for her at her lowest. Together, you can find them having "Maggie Sunny" days which involves cocktails, fairies, and girly time! Sunny dates Cheeph who is one of the ushers!

Bella Bonkowski - Flower Girl
Hometown: Kansas City

Bella is Maggie's cousin Katie's daughter. Kohout Family Tree: Grandma Marv had Jim and Ken (Maggie's dad). Jim had Katie and Amy. Katie had Bella and Jordan. Grandma Marv passed away in 2008; she was the ultimate matriarch of the Kohout family and was well-loved. Maggie feels so honored to have Bella be a part of her special day!

Lucy Ray - Flower Girl
Hometown: Chicago

Lucy is Maggie's cousin Allison's daughter. She is the first grandchild of Grandma Sheila! This past Thanksgiving and Christmas Maggie and Lucy bonded over their love of books! Maggie is so excited to have Lucy as a flower girl!
Kyle Simmons - Attendant
Hometown: Pasadena, CA & now Bay Area

Kyle will be Maggie and Dan's officiant!
Kyle and Dan became friends when they both lived in Portland. Kyle has also lived with Maggie and Dan at their house in Santa Cruz for a few months here and there!

Brian Busby - Groomsman
Hometown: Milwaukee & now Boston

Brian is Dan's oldest brother. They both love the Packers, catching up on the phone, and they share a great sense of humor! Brian lives in Boston with his wife, Leigh.
John Busby - Groomsman
Hometown: Milwaukee & now LA

John is Dan's other older brother. John is married to Leah and they live in LA with their adorable Australian Shephard, Ollie. Dan and John both love food!~ cooking, going out to eat, etc.

Joe Kohout - Groomsman
Hometown: Hinsdale & now Santa Cruz

Joe is Maggie's older brother and lives in Santa Cruz too. Joe is the reason Maggie and Dan moved to Santa Cruz! They came out and visited Joe one year for Thanksgiving and fell in love with Santa Cruz. Joe lives with his sweet wolf pup Mia, and he loves art, music, and travel. Maggie and Dan consider themselves blessed to have family living in the same town as them.
Ben Kohout - Groomsman
Hometown: Hinsdale & now Santa Cruz

Ben is one of Maggie's younger brothers. Ben and Sam are twins! Ben lives between Santa Cruz and Hinsdale. Ben also lived with Maggie and Dan for a few months here and there! He loves paintballing, the outdoors, sports, animals, and just hanging out. Dan and Maggie are so happy when Ben is in Santa Cruz and living near them. They always love hanging out with Ben, especially Curtis- he loves when Ben comes over!
Sam Kohout - Groomsman
Hometown: Hinsdale & now Santa Cruz

Sam is Maggie's other younger brother. He lived with Maggie and Dan for three years! Sam now lives in his own place in Santa Cruz with his beautiful husky, Luna. Sam loves nature, hanging out with friends, music, and taking photographs. Maggie and Dan consider themselves lucky to have family living so close. Sam is always there to take care of Dan and Maggie's cat's Kitty and Curtis when they go out of town!

Clayton Donnelly - Groomsman
Hometown: Atlanta & now Seattle

Clayton and Dan became friends when they both lived in Olympia, Washington. Then Dan moved into Clayton's "Biscaye" house! This past summer Dan was a groomsman in Clayton's wedding to Sarah. Clayton and Sarah live together in Seattle with their dog Zeek and two cats, Cosmos & Kela.
Fun fact: Before Dan and Maggie ever met, Dan adopted a dog and named her Maggie. Dan moved to Portland and Clayton took over as dog Dad! As of a few years ago, Mags passed away, but she now lives in heaven and watches over all of the pets. :)

Robert Gordon - Groomsman
Hometown: Palm Beach & now NYC

Robert and Dan became friends through going to concerts together! Then, Dan lived with Robert in Olympia, Washington. They have been great friends ever since. When Maggie and Dan first moved to California, Robert was living in Berkeley and they would visit each other often. Robert is in law school and lives with his fiance, Lauren. Dan will be a groomsman for their wedding too! Dan and Robert love sports, music, good food, and current events.
Mike Keterhagen - Groomsman
Hometown: Milwaukee & now Oregon

Mike and Dan met in high school and have been friends ever since! Though they haven't lived in the same town since then, their friendship has never faded.

Ian O'Brien - Groomsman
Hometown: Charlotte, NC & now NYC
Ian and Dan became very good friends when they were living together in Portland! If it wasn't for Ian, Maggie and Dan may not know each other! Ian was in a band called Alpaca and they were doing a show in Colorado. Dan went along and they all came over to Zeen and Maggie's apartment (Dan and Zeen were friends). Ian now lives in NYC, and though Dan and Ian haven't seen each other in a while, they will always be friends.

Daniel Witte - Groomsman
Hometown: Mequon & now Milwaukee

Daniel and Dan became friends with they were in elementary school and they have been friends ever since! When Maggie and Dan lived in Portland, Daniel lived there too as well as Daniel's mom, Mary (for the summer). They would all hang out over drinks and delicious food. Dan and Daniel both love cooking and going out to eat.

Kevin Nelson (Cheeph) - Usher
Hometown: Long Island, NY & now Santa Cruz

Cheeph has been a long time friend of Maggie's older brother Joe. Ever since Dan and Maggie moved to Santa Cruz 6 years ago, they have become great friends with Cheeph as well! Every year Cheeph welcomes the whole crew to his house for an epic "Friendsgiving"; some would say that Cheeph is the "Chief" of the group! Cheeph also dates Sunny, one of Maggie's bridesmaids!
Jordan Bonkowski - Ring Bearer
Hometown: Kansas City

Jordan is Maggie's cousin Katie's son! He is also the younger brother of flower girl, Bella. Maggie and Dan are excited to have Jordan be there ring bearer!